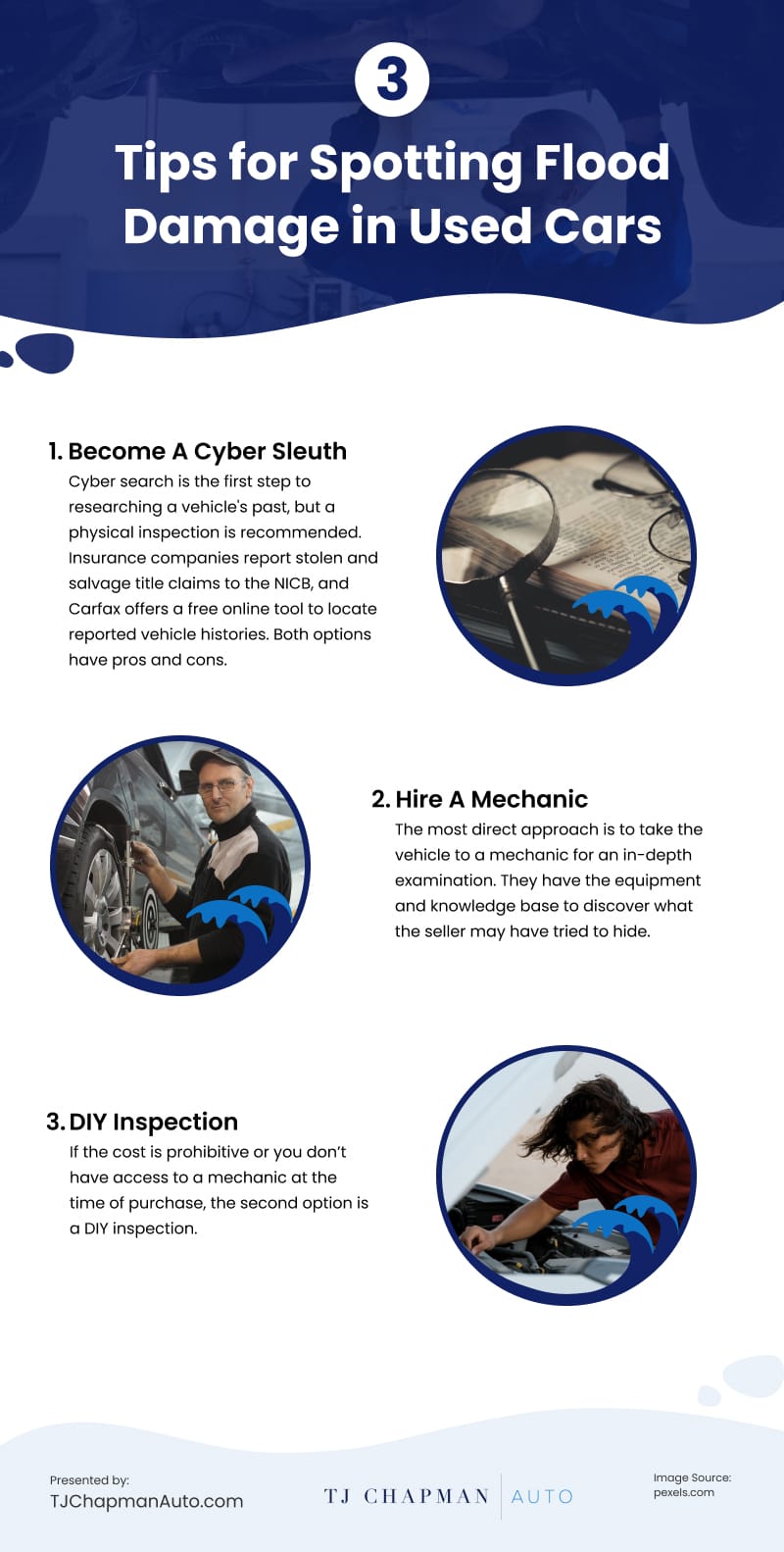 As floodwater surpasses the vehicle's sides, it transports various contaminants into the carpet, seat foam, hidden spaces, and corners. Car components that were never designed to be exposed to standing water will begin to rust. Softer materials become susceptible to mold growth. Additionally, both mechanical parts and electrical systems may suffer damage.
Search for Flood Damage Even If You Live In a Dry Climate
Unfortunately, there are deceitful dealers out there. A trustworthy seller will be transparent with the buyer about the vehicle's damage and the efforts made to restore it to its original condition. An unprincipled seller may give it a superficial makeover and sell it in an area where buyers are less likely to suspect flood damage. The unsuspecting buyer may take the car for a test drive, only to discover months later that their supposed "new" car is a faulty one.
Tips on how to spot the lie and protect your investment:
Become A Digital Detective
You can research a vehicle's history in different ways. Start by doing a quick online research. It's a smart move that saves you time and effort. Insurance companies share stolen and salvage title information with the National Insurance Crime Bureau (NICB). You can use their free online tool to find reported vehicle histories by entering the Vehicle Identification Number (VIN).
Conduct Physical Inspection
To ensure a comprehensive assessment of the vehicle, conducting a physical inspection is highly recommended. This hands-on approach allows you to personally inspect the car and scrutinize its various components. There are two options available for this crucial step: you can either hire a mechanic to carry out the inspection or take on the task yourself.
Hiring a Mechanic to Inspect:

Having a mechanic thoroughly inspect the vehicle is the most straightforward and effective approach to ensure its true condition. Mechanics are equipped with specialized tools and possess extensive knowledge about various car models and their intricacies. Their expertise allows them to conduct a comprehensive examination, going beyond what an average buyer might be able to assess.
DIY Inspection:

If the expense is too high or you cannot find a mechanic during the purchase, the alternative is to do a self-inspection. Your inspection should include looking for water lines where metal, paint, or interior have had prolonged exposure to water, checking the headlight for fogging, smelling the carpet and seat, checking the electrical system and wiring, checking under the vehicle for rust and checking seat bolts for tool marks, or stripping. Exercise caution if the seller cannot offer a clear title and intends to finalize the transaction solely with a bill of sale.
source: https://blog.tjchapmanauto.com/spotting-the-lie-checking-a-used-car-for-flood-damage/
Comments
Download this infographic.