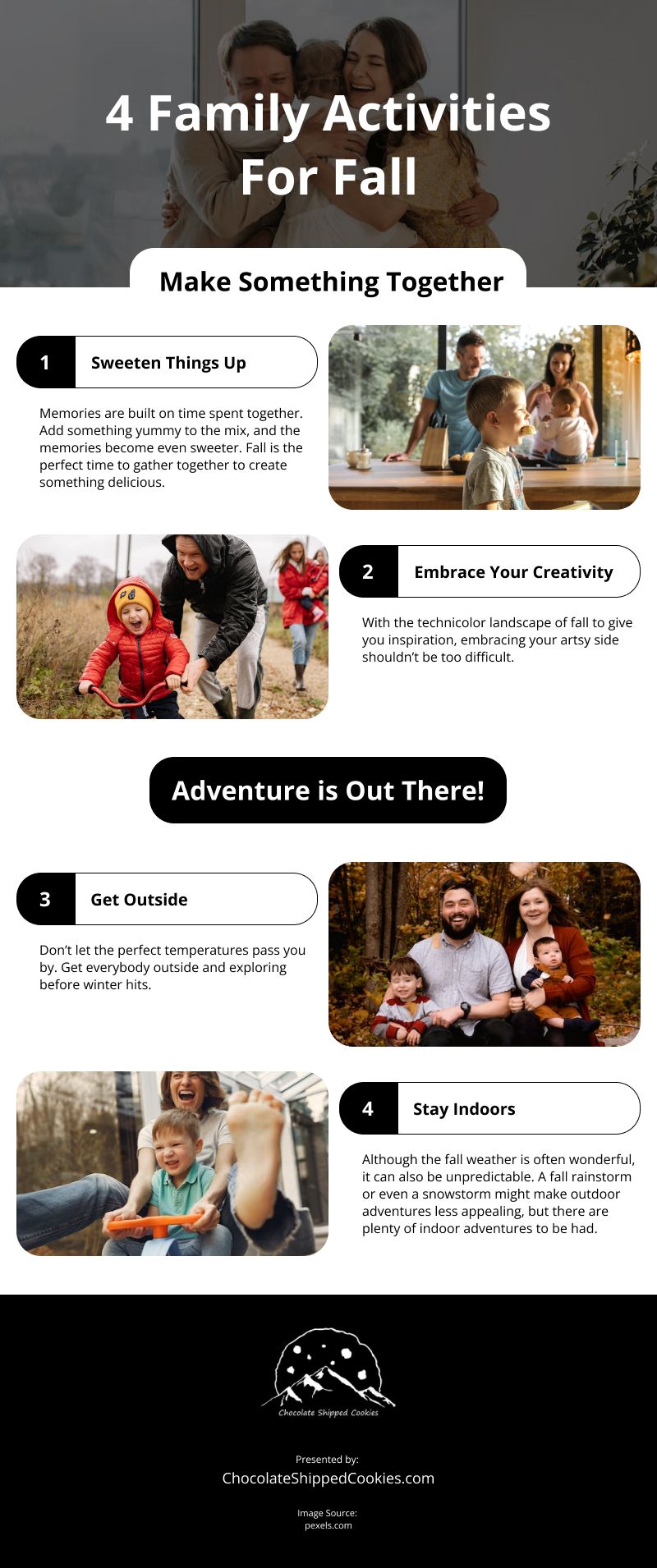 Many people love fall. After a sweltering summer, the cooler fall air might seem rejuvenating. The smells are another factor. Some of the fall fragrances we expect all year are warm pumpkin spice cookies, hot cocoa, and fresh apple pie. These basic smells have the power to uplift our spirits and stir our memories.
Make some wonderful family memories. Here is a list of activities to enjoy the season to the fullest with your loved ones.
Create Something Together
1. Sweeten Up
Spending time together helps create memories. Fall is the ideal season to get together and make something delectable.
Apple Treats: it's apple harvest season. Make pies, tarts, candied apples, or caramel apples.
Warm Drinks: a warm beverage is an ideal item to prepare with friends on a cool autumn evening, whether it be hot apple cider, hot cocoa, or a pumpkin spice latte.
Cookie: there are a ton of cookie varieties to choose from, but for a unique fall treat, we suggest baking sugar or pumpkin cookies.
Soup or Chili: get everyone in the kitchen to cut, dice, pour, and stir chili or soup! Use a family recipe or come up with one that will grow into a new custom.
2. Be Creative and Embrace It
It shouldn't be too tough to embrace your artistic side when the technicolor landscape of October serves as your source of inspiration.
Create Your Own Outfits: have fun coming up with your family's Halloween costumes.
Pumpkins: pick your own pumpkins, then bring them inside for some family creative time. Carving is traditional, but you can add some flair by using some of the elaborate templates you can find online. You may even paint your pumpkin or use it as a canvas for string art.
Craft: create a fall project with items you find outside, such as a pinecone or leaf turkey or wreath.
Adventure Awaits!
1. Go Outdoor
Before winter sets in, encourage everyone to go exploring outside.
Horse riding
Hayride
Family Photos: finding a location with stunning greenery can ensure that your family photos turn out, well, picture-perfect.
Corn Maze
Fair or Fall Carnival: it is the perfect place to go because there are so many activities and delectable foods available all in one location.
High School Football Game
Zoo: both you and the animals will be considerably more at ease with the cooler weather.
Peach Orchard/Pumpkin Patch: peaches are in great supply, and pumpkins come right behind them.
2. Stay Inside
Even though the fall weather is frequently beautiful, it can also be erratic. There are lots of indoor experiences for the whole family, even if a fall shower or even a snowstorm makes outdoor pursuits less enticing.
Visit a haunted house
Go to a museum
Take part in a Halloween party (or throw one)
Bake: for some tasty suggestions, see the section above.
Have Fun On A Budget
It doesn't have to be expensive for your family to enjoy fall activities. Try these ideas to save money.
Jumping in a pile of leaves is a pleasant way to do it if you have to rake leaves in your yard.
Observe bird migration or nesting
Play football
Explore The Fall Colors: take a hike, a bike ride, or even just a drive through the mountains or woods to take in the stunning colors of the season. Include a scavenger hunt in your journey to make it even more enjoyable.
Game Night
Thanksgiving or Halloween decorating ideas: dust up your old decorations or create some new ones from items you currently have lying around the house.
Bonfire: gather around a backyard fire to roast hot dogs, bake s'mores, and share spooky tales.
Movie Night
Jump in Puddles: forget about your inhibitions and just have fun splashing around in the rain and jumping in puddles.
Indoor Camping: set up a tent in the living room to have an outdoor experience with all the comforts if it rains or turns too chilly at night.
If you have distant relatives, you may still make sure they get to enjoy the season by ordering them some festive cookies online. They will receive a strong dose of autumn spirit along with freshly baked cookies right at their front door. You can order items to go along with your own family's activities. There is a way for you to take full advantage of the stunning fall season, no matter how big your family is or how it is structured.
source: https://www.chocolateshippedcookies.com/get-the-most-out-of-fall-with-these-21-family-activities/
Comments
Download this infographic.