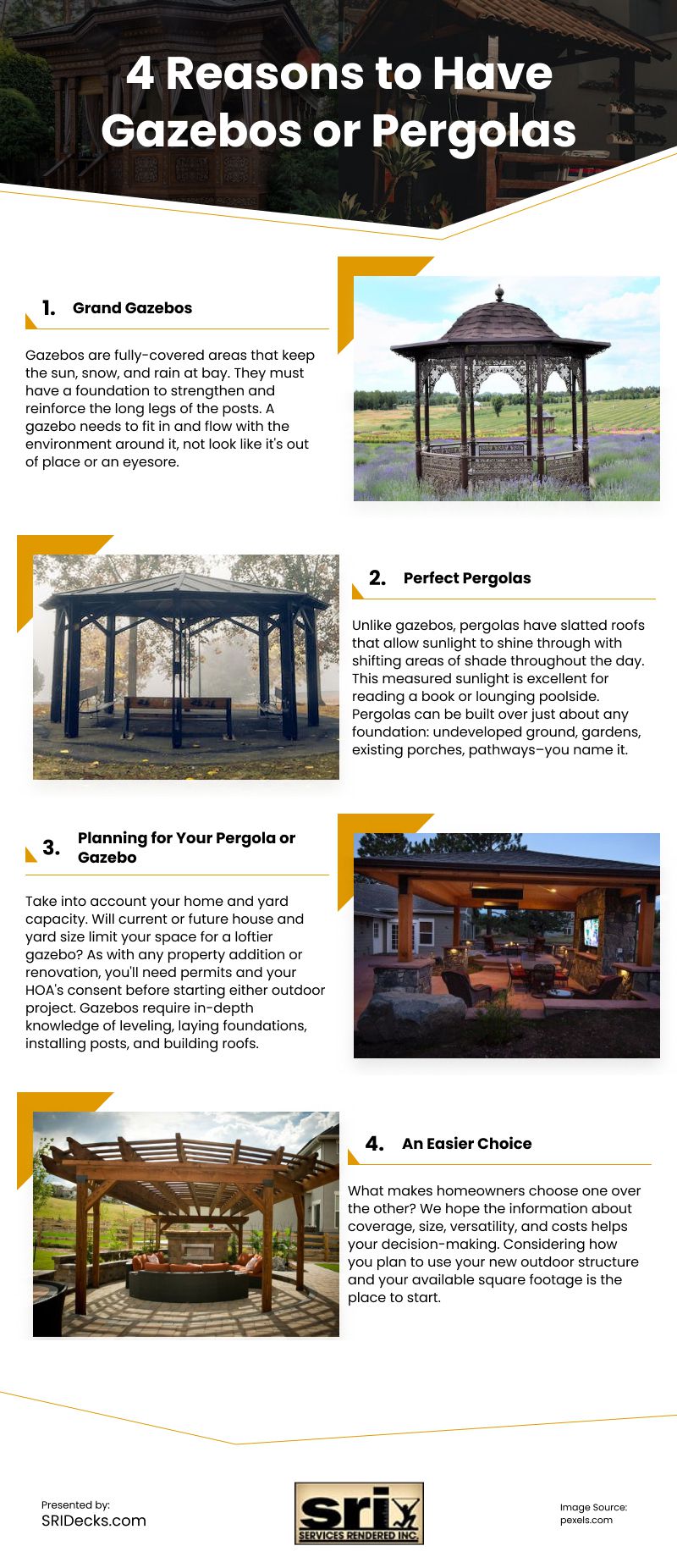 At SRI Decks, our tailored outdoor construction specialists in the Denver area have been the authority in creating lovely structures that boosts the worth of your home and the living and entertainment space it offers. Customized pergolas and gazebos are among these types of structures.
This infographic will be devoted to examining gazebos and pergolas in-depth. We hope that by learning what makes them unique, you'll have better skills to choose between the two options. Let's begin by examining the differences between these two structures.
Grandiose Gazebos
Gazebos are completely contained spaces with enclosed roofs that block the sun, snow, and rain. The large roof sizes of gazebos necessitate the need for a foundation to support and bolster the long legs of the posts. Concrete, masonry, stone, wood, or composite materials can all be used for the foundation.
Whether or not a gazebo is right for you will depend on the size of your house and yard. A gazebo shouldn't appear out of place or unseemly; rather, it should blend in and propagate with the surroundings.
Perfect Pergolas
Pergolas, in contrast to gazebos, have slatted roofs that let sunlight reach through while providing varying amounts of shade throughout the day. Nearly any foundation, including undeveloped land, gardens, porches that already exist, paths, you name it, can be encompassed with a pergola.
Pergolas appear in a multitude of sizes and shapes, just like gazebos, but their adaptability is unmatched. They have the benefit of squeezing into small areas. On the other hand, if you have the space, they can be just as big and striking as gazebos.
Making Plans for Your Gazebo or Pergola
For you to build an outdoor structure you'll cherish and utilize for years, meticulous preparation is essential. Think about the intended use of your pergola or patio. What uses do you see for it? Do you favor a pergola with more light or a gazebo with more shade?
Additionally, consider the size of your house and yard. Do you have sufficient space for a larger gazebo in your present or future home and yard? Before undertaking the either outdoor project, as with any property addition or restoration, you'll need the correct permits and your HOA's approval. Structures that are safe and secure are ensured by permits. Observe the most pertinent laws in your region, which are typically state, city, or town safety codes.
Using a qualified woodworker for either option ensures success. We can go over design options, secure the project's required permits, and handle all the labor-intensive tasks so you don't have to.
An Easier Choice
What factors influence residents' decisions between them? We trust the details about the size, adaptability, and price support in the decision-making. The first step is to take into account your available square footage and how you anticipate using your new outdoor construction. Then, contact our gazebo and pergola builders in the Denver region. With decks, porches, gazebos, pergolas, and other structures, we can transform your yard into a posh refuge.
source: https://sridecks.com/gazebo-or-pergola-whats-the-best-choice-for-you/
Comments
Download this infographic.