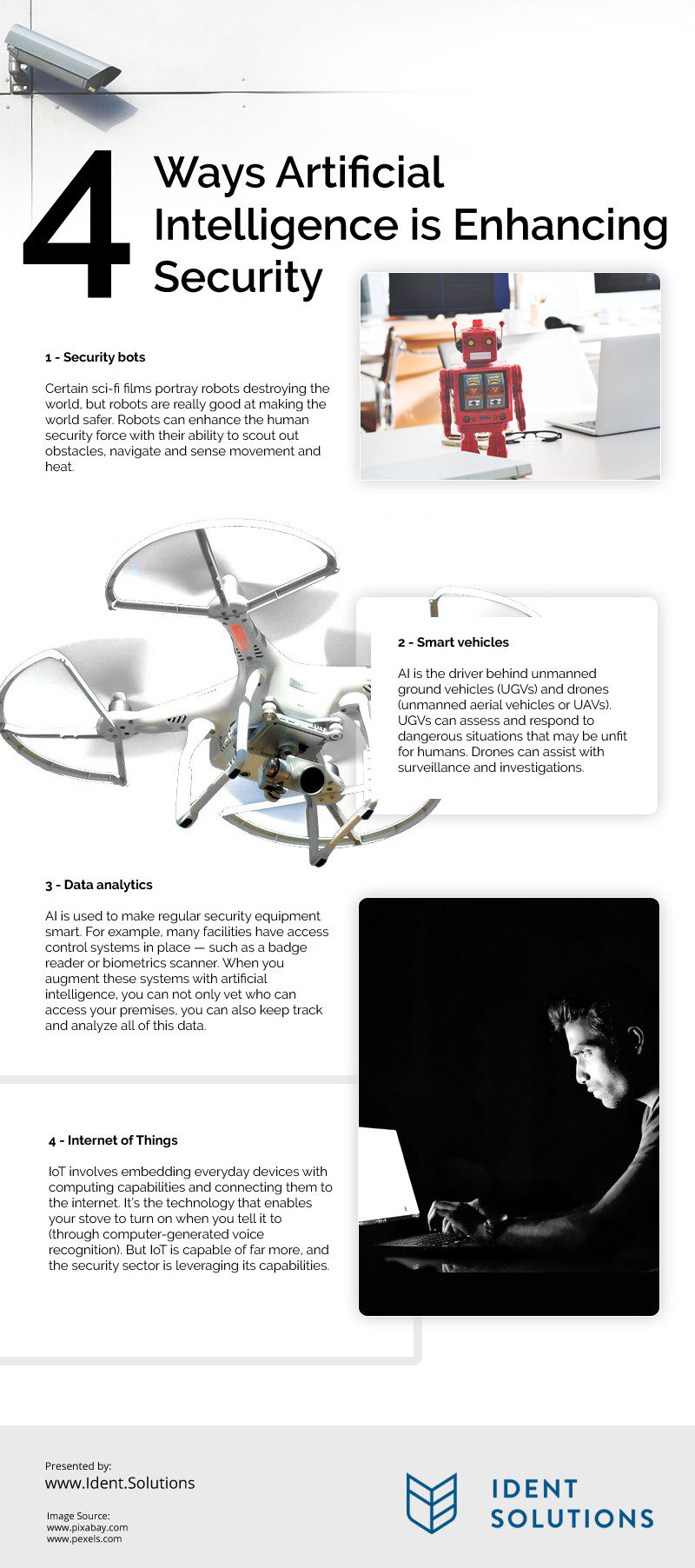 The 21st century has created various developments in the field of technology. One of these developments is the creation of Artificial Intelligence that created changes not just in one sector but almost all of the sectors of human lives. For example, even in the field of teaching, AI robot teachers have been replacing a few teachers in some countries. More so, AI can be helpers in your homes. Imagine an AI citizen. However, as AI's capabilities are offered to all types of people, it can be used in various ways that a user feels will fulfill its goals and objectives. Hence, you must also protect your sake and interest using such Artificial Intelligence and this includes ensuring the safety of your facility. This infographic provides options as to how you can make use of artificial intelligence.
1. Robots that will be assigned to security. These robots are created to sense obstacles, bombs, arms and other security threats that could be carried by a person. They can help in finding where these bombs are kept by bad people. And since they do not get hurt, even if they will be affected when the bomb gets busted, you need not worry.
2. Have you seen drones taking aerial views of your facility or a ground vehicle that has no driver? These are smart vehicles and they are also working through artificial intelligence. If there is a problem at the top of the building, just fly the drone up there and you will have a clear view of what is really happening. It can assist both in surveillance and assessment of security threats that you are facing.
3. You cannot easily tell whether the person who just entered the building will have positive or negative intentions for coming in. Having a biometric or scanner that can analyze the data of the person allows you to properly evaluate and check his or her background. If the data analysis shows that such a person must not be trusted, you can proceed to another step of identity verification.
4. There are some television shows where an elderly will just make command and the light will be turned on or off. In some cases, the stove can be turned on even without going to the stove itself. This is a computer-generated voice recognition technique provided by artificial intelligence. It can be of great help to the elderly as well as to persons with disabilities and assist them with what they need inside the house. You can also make use of the computer-generated voice recognition in your office.
5. As you can see, the benefits provided by the artificial intelligence cannot be underestimated because it has been improving human lives since it was developed. You must take advantage of these opportunities and include it in your security measures. Of course, some of the AI products can be expensive but it can provide benefits to your company. As usual, when the benefits outweigh the cost, it must be a worthy investment.
source: https://www.ident.solutions/how-artificial-intelligence-is-enhancing-security/
Comments
Download this infographic.