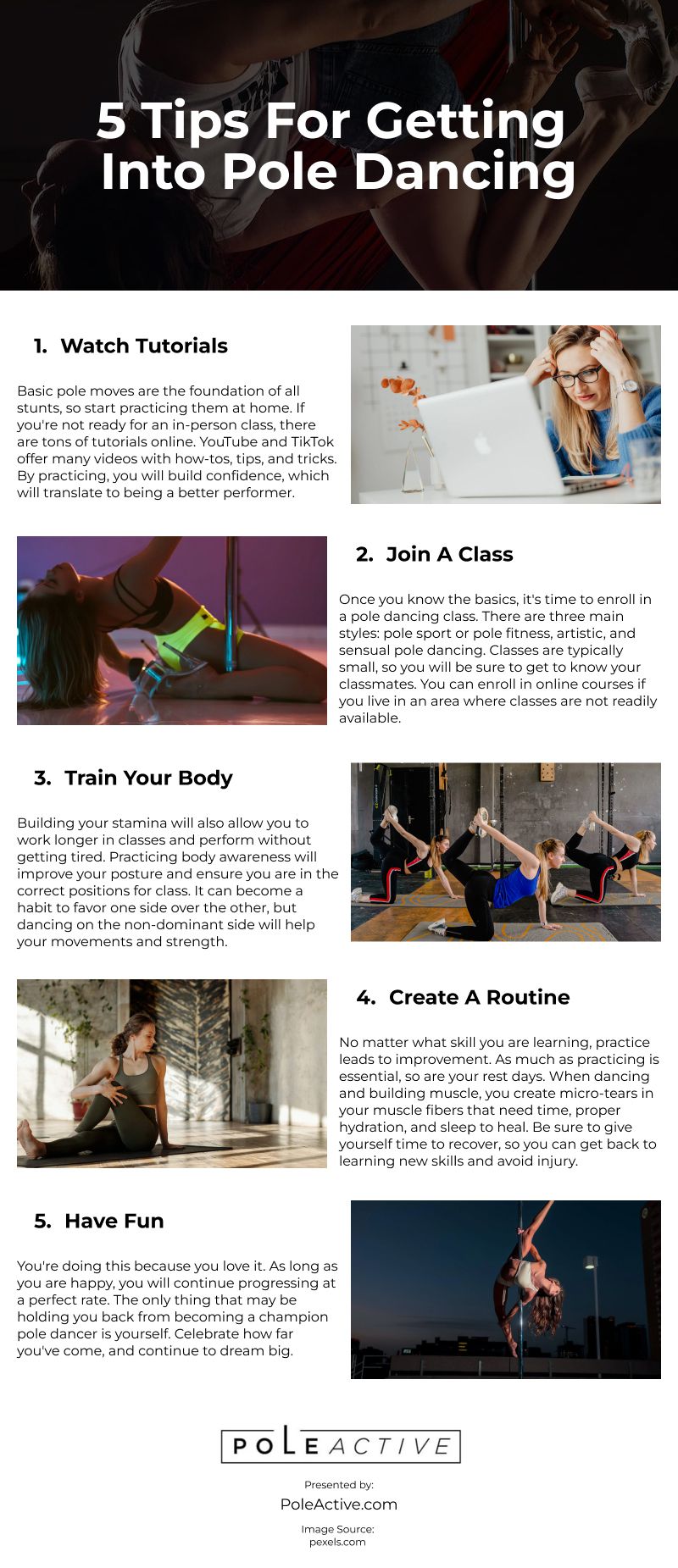 It takes dedication, practice, and a strong enthusiasm to become an accomplished pole dancer. If you are just beginning, you can feel discouraged, or your ego or body might get bruised. Never give up. Here are some suggestions to get your training going and keep you motivated.
Watch Tutorials
There are a ton of courses available online if you're not ready for a live session or just prefer to practice. There are a ton of videos with instructions, advice, and tips on YouTube and TikTok. Keep a list of the techniques you want to learn.
Start honing your pole skills at home. You will gain confidence as a result of practicing, which will improve your performance. You can master more complex routines and acquire new talents more quickly if you can move fluidly through the fundamental moves.
Attend A Class
Since most classes are small, you will have no trouble getting to know your classmates. You'll make friends who can help you improve your abilities, refine your style, and have fun both inside and outside of the classroom. If you reside in a place where lessons are not frequently offered, you can sign up for online courses.
If you've never taken a class before, you might feel more comfortable wearing your typical activewear, such as leggings. However, in order to securely grab the pole and execute maneuvers, you must have exposed skin. Pole shorts with a high waist are a great place to start. Pole dancing attire for beginners sticks to your skin while covering it if you desire more coverage. Make sure any exposed skin is dry if you have any in class. Any creams or moist skin will make you slosh around everywhere.
Try out a few different styles once you've taken a few classes. There are three basic types of pole dancing: sensual pole dancing, artistic, and pole sport or pole fitness. There are several sub-types with various techniques and styles that you can add to your individual dancing style. Additional lessons like yoga, aerial silks, and Lyra hooping can improve your skills and give you more flexibility and confidence.
Workout Your Body
You will be sore from exercising new muscle areas because the pole mixes flexibility, strength, and grace along with other dance styles like ballet. Outside of class, work on building your physical strength to make it simpler to sustain your graceful, flowing motions while holding your body in the proper positions.
Start checking your posture regularly throughout the day. If you exercise body awareness, your posture will get better and you'll always be in the ideal position for class. Before class, practice the techniques on both sides. Although dancing on your non-dominant side helps you build stronger motions, it may cause you to develop a preference for one side. When you can dance on either side, you'll be more flexible and able to incorporate more modifications into your routines.
Establish A Routine
Whatever talent you are learning, practice makes perfect. To achieve results, practice at home and go to class frequently. Celebrate your little successes to keep yourself inspired. Document your journey to see which moves you may cross off your list of those you wish to master by consulting the list you made.
Your rest days are just as important as your practice sessions. When you dance and grow strength, your muscle fibers experience micro-tears that require time, appropriate water, and sleep to recover and allow you to develop bigger stronger muscles. Give yourself enough time to heal so you may resume learning new skills and stay safe.
Enjoy
You will keep making flawless development as long as you are content. Celebrate your progress and keep having ambitious dreams. You might be the only one preventing yourself from excelling as a pole dancer.
source: https://www.poleactive.com/blogs/news/5-tips-for-getting-into-pole-dancing
Comments
Download this infographic.