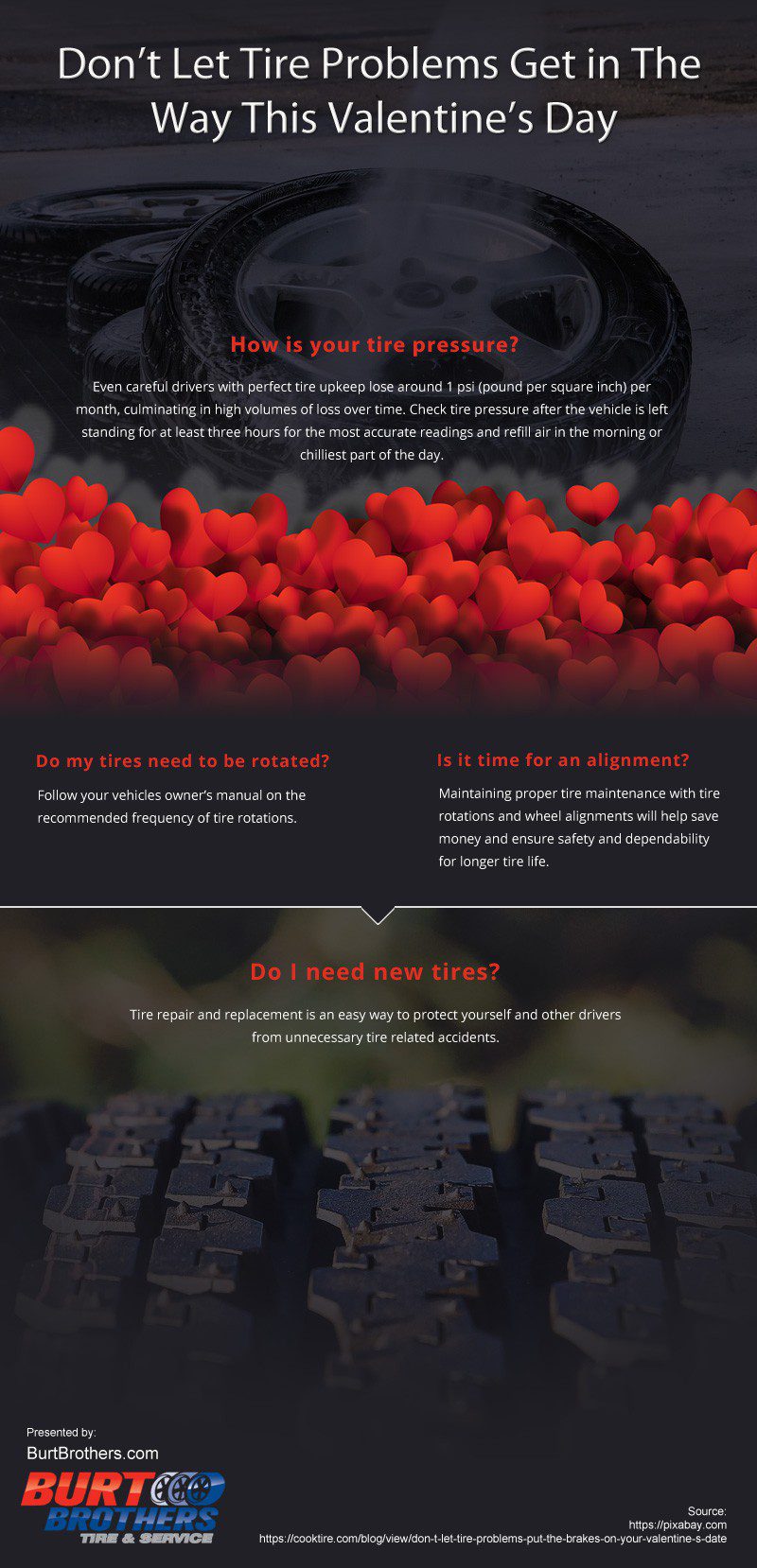 Have you been thinking about how you would make a proposal? Or you are dreaming of a perfect valentine date on some fancy hotel, where you can eat a delicious meal and you are wearing elegant clothing and that special someone looks so beautiful because of a wide smile she wears when she is looking at you. And while you are on the way, the tire breaks out and you can't move forward. This is just a simple scenario that usually happens because you don't check your tires frequently. Tires are an essential part of a car and if you can't make a better judgment on buying new ones, you may end up with a ruined date. To avoid such dilemma, here's an infographic that will tell you what to do as you plan on having a date.
1. Always check the tire pressure. If the air is too low, spearing could be so hard and the capacity to rotate would also be difficult. If the air is too high, it's as if you are driving on a bumpy road. Another problem with insufficient tire pressure is the possibility that it won't function well. Some driver tends to believe that pressure doesn't change especially if the car is not used frequently. However, this is not true. The careful driver, on the average, loses one pound per square inch that could accumulate for a high volume loss through time. When is the best time to check air pressure? For accurate readings, check the tire pressure three hours after it has been left standing. Filling the air should be done in the morning or in the coldest time of the day.
2. Another question you need to ask yourself is do your tires need to be rotated? Every car has its manual on rotations and yours has it too. Read your manual thoroughly and find the part that discusses the appropriate frequency of tire rotation. Or you can estimate if you are really needing a tire rotation by simply looking at those tires.
3. Maintaining tire rotations and wheel alignments can be expensive at times. However, buying a new car because of this problem would be more expensive. Maintenance is there to lengthen the life of a tire. Aside from that, maintenance can also improve its dependability. This means that you are confident that you can go on a date and even bring your date someplace nice and cozy with your safe and reliable car.
4. One of the major causes of vehicle accidents is the tire conditions. There are cases when the driver would underestimate the car's condition and say that it can still run without any problem while on the high way. If you are the driver, you are responsible not just to yourself but also to the person riding with you. What if you bring your date and your tire breaks out and you meet an accident? Hence, it is essential that you won't be frugal enough to use old tires just to save some cash. Your safety should be your utmost priority. If you need new tires, get one now, and enjoy the Valentine's Day.
source: https://burtbrothers.com/blog/car-ready-valentines-day/
Comments
Download this infographic.
How would you rate this infographic?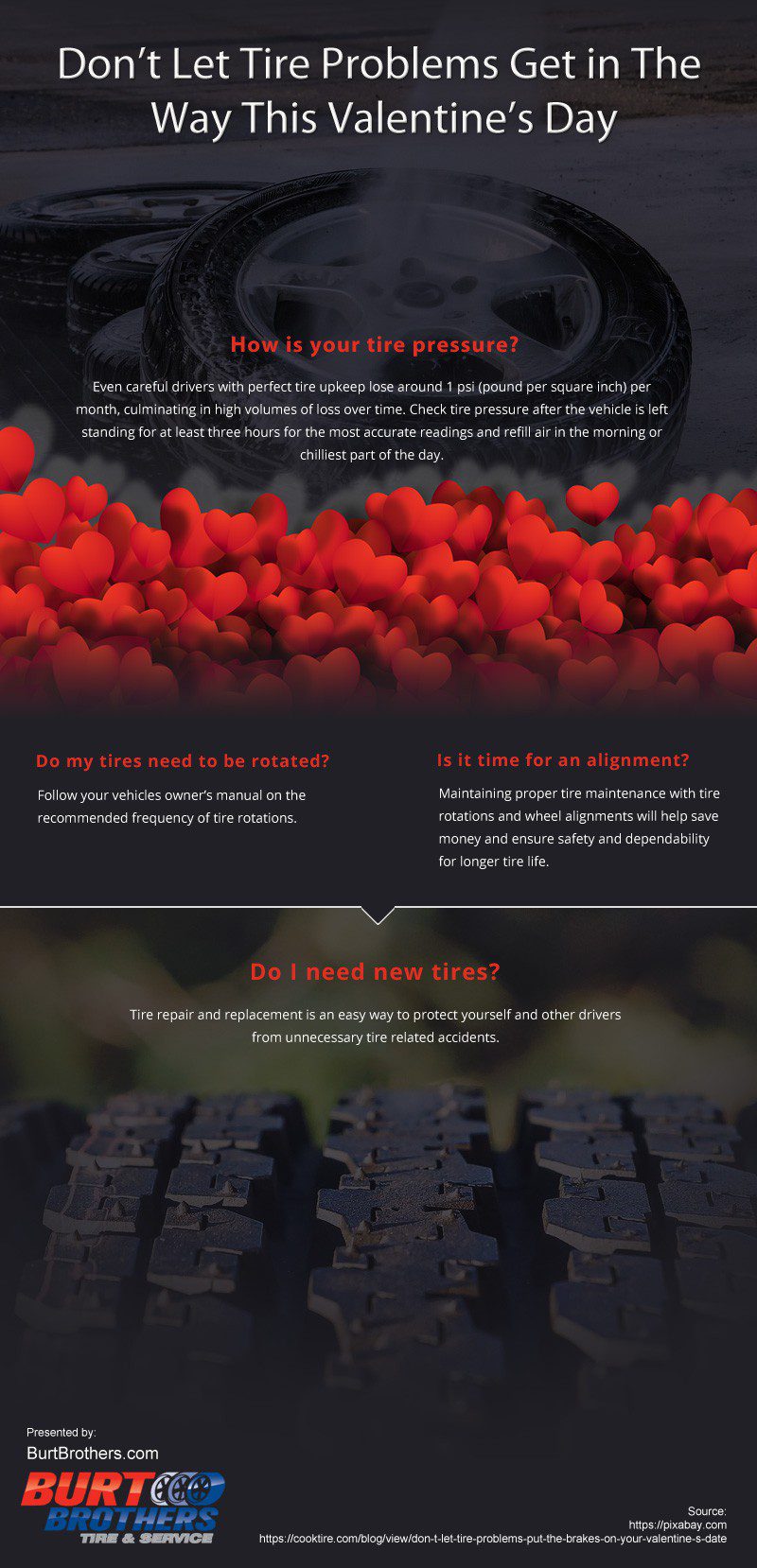 Our Rating





Infographic Designer
Burt Brothers Tire & Service
Infographic Name
Don't Let Tire Problems Get in the Way this Valentine's Day Infographic